It is a very black Friday in New Zealand as a terrorist attack has led to the death of about 50 peoples as at the last count.
The attack which occurred on two mosques in New Zealand has left at least 49 people dead today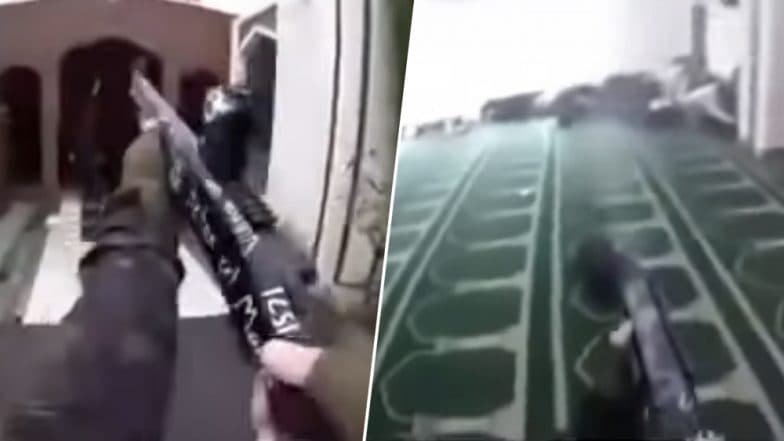 According to AFP, reports have also revealed that one of the gunmen, believed to be an Australian extremist, apparently live-streamed the deadly assault.
This is part of the live-streamed video shared by the gunman
The man, who identified himself as 28-year-old Australian-born Brenton Tarrant, filmed the attack on social media. Dressed in a military-style, camouflage outfit, and carrying an automatic rifle he started randomly shooting people in the Al Noor mosque shortly after 1.40pm local time (12.40am GMT).
Tarrant, who filmed himself attacking a Christchurch mosque in a Facebook Live video, posted a 74-page manifesto in which he claims to be from a "working class, low income family".
He said he was of Scottish, Irish and English stock and moved to New Zealand temporarily to plan and train and then stayed there after deciding to conduct the attack.
I have read the writings of Dylann Roof and many others, but only really took true inspiration from Knight Justiciar Breivik," he wrote.
The attacks has sparked horror, revulsion and dismay around the world.
The New Zealand's Prime Minister, Jacinda Ardern, was quoted saying: 'It is clear that this can now only be described as a terrorist attack,' as she also described it as "one of New Zealand's darkest days."
The President of Turkey,  Recep Tayyip Erdogan, while reacting to the incident was quoted saying: "With this attack, hostility towards Islam that the world has been has been idly watching and even encouraging for some time, has gone beyond the boundaries of individual harassment to reach the level of mass killing," said Turkish
"If measures are not taken right away, news of other disasters will follow this one… I am calling on the world, in particular the West, to take quick measures," he said.
Also, the Malaysian Prime Minister, Mahathir Mohamad, said he hoped New Zealand "will arrest these terrorists and do the necessary under the law of the country."
Vladimir Putin, the Russian President, in a condolence message was quoted saying: "An attack against peaceful people gathering for prayer is shocking in its cruelty and cynicism," Russian President Vladimir Putin said.
"I hope that those involved will be severely punished," he said in a message to Arden.
In the same spirit, the Indonesian President, Joko Widoyo, head of the world's largest Muslim country, has was quoted saying: "we strongly condemn these kind of violent acts"
The European Union (EU) Council president, Donald Tusk. has described the incident has an "Harrowing news from New Zealand overnight."
"The brutal attack… will never diminish the tolerance and decency that New Zealand is famous for," his tweet read.
British Prime Minister, Theresa May has also offered deepest condolences "after the horrifying terrorist attack in Christchurch. My thoughts are with all of those affected by this sickening act of violence."
German Chancellor Angela Merkel said she mourned "with New Zealanders for their fellow citizens who were attacked and murdered out of racist hatred while peacefully praying in their mosques. We stand together against such acts of terrorism."
French President Emmanuel Macron also echoed Merkel's message, condemning an "odious attack" and saying France "stands against any form of extremism"
Spanish Premier, Pedro Sanchez, said his thoughts were with the victims, families and government of New Zealand after attacks by "fanatics and extremists who want to destroy our societies".
Also, the Norwegian Prime Minister, Erna Solberg, has urged the international community to combat all forms of extremism after the Christchurch attacks, which revived painful memories of the 2011 Breivik mass killings in Norway.
"It's obviously very sad. It recalls painful memories of our own experience with July 22, the most difficult moment in the post-war period in Norway.
Meanwhile, NATO chief, Jens Stoltenberg said the US-led alliance "stands with our friend and partner New Zealand in defence of our open societies and shared values".
In a new development, the Bangladesh cricket team which were in Christchurch to play New Zealand in a third cricket on Saturday was arriving for prayers at the mosque when the shooting occurred but all members were  reported safe.
The teams later announced the test would be cancelled.
Source, Image Credit: AFP, The Punch, Twitter, Reuters, The Telegraph, The Right Scoop, Daily Express
Swedish lawmakers wash their own clothes — and earn in a year what a Nigerian senator gets in 60 days
Lawmakers in Sweden have no official cars, enjoy no immunity, use public transport, and wash their own clothes themselves — in public laundries!
This is a world of difference away from what obtains in Nigeria, where lawmakers get special treatment, official vehicles, luxury and heavy running costs — which are separate from what they get as salaries.
The speaker of the house of representative also travels in crowded buses and trains; only the Prime minister is said to have the rights to use an official car. The politicians are treated as ordinary citizens.
In an op-ed for the Mail and Guardian, Claudia Wallin, a Brazilian journalist who has been in Sweden since 2003, said this may be odd to lawmakers from other parts of the world, where senators and representatives are used to a life of luxury.
With this system, Sweden has transformed itself from "an impoverished, agricultural society into one of the wealthiest, most socially just and least corrupt countries in the world".
According to Business Insider , an MP in Sweden earns $78,000 a year — and while this might seem like a lot, it is only "about two times more than that of an elementary school teacher" in the country.
To put in proper context, $78,000 (N23.9m) — which a Swedish MP gets in a year — is less than what a Nigerian senator gets as running cost for two months. The senator gets $44,052.86 a month, and $88,105.72 in two months.
This does not include official cars, furniture allowance, hardship allowance, welcome package, severance package, and the many more allowances hidden from the public.
When President Emmanuel Macron of France visited Sweden's Prime Minister Stefan Löfven in 2017, both men and their officials were said to have used a public bus for one of their trips.
Source: TheCable